If your clients pay you for a certain number of hours that must be fulfilled, you can set time estimates for projects and use them as a "budget" of hours that you need to fulfill for your clients.
Example:
Let's say you need to work 100h each month for your client Mark.
You create a project and name it e.g. "Mark's Project" and assign Mark as a client to that project.
Then go to Project Settings and set manual estimation to 100h.
After you track some time on this project, you can go to Project Status and check how much time you tracked vs the budgeted hours (estimated time).
Plus, here you can see the remaining hours on the project as well.
If this is a recurring project which repeats each month you can create Tasks for each month (January, February, etc.) and set estimates for these tasks.
In this case, after you create a project you will go to Project Settings and switch to Task-based estimates. Then create tasks (January, February, etc.) and set a 100h estimate for each task.
You will also be able to check your progress on these tasks in the Project Status.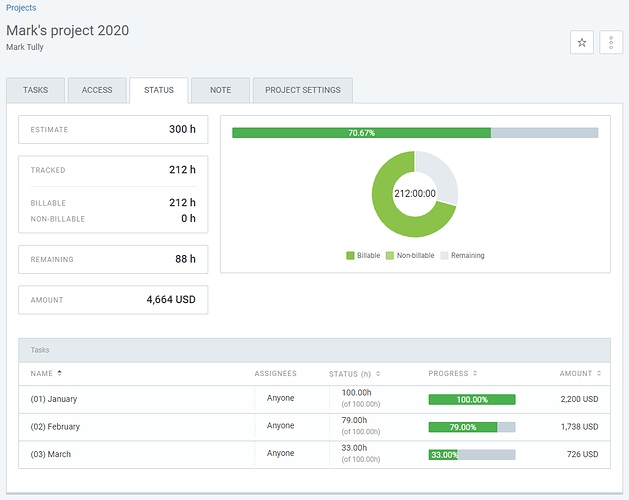 If you're subscribed to one of our paid plans (Premium or Enterprise) you can also set Alerts and get an email notification when a Project or a Task reaches a certain percentage of its estimate.
So you can be notified when you are near or reach the budgeted hours.
In the case of recurring projects, another option would be to create a new project each month and archive the old ones.
Project Templates feature would make this a bit less of a hassle since you wouldn't have to bother creating the same project over and over because settings such as Estimates would already be applied on projects you create with a template.